Afghani Kebab With Tomato Gravy
By
admin
on October 31, 2011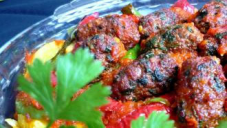 Ingredients:
• Salt to taste
• Ginger Garlic Paste 1 tbsp
• Tomato 1 kg (chopped)
• Onion 2 (chopped)
• Black Pepper 1 tbsp
• Lemon Juice as required
• Green Chillies 4 (chopped)
• Beef 1 kg (minced)
• Fresh Coriander 1bunch(chopped)
• Bread 2
Method:
* Take beef mince, ginger garlic paste, salt and bread slices and put it in chopper and make batter.
* Now take black pepper and chopped onions and mix it in batter.
* Make kabab from batter and shallow fry it till it turns golden brown.
* Use green coriander for garnishing.
* Take a wok and put tomato, oil, black pepper and salt and suate it and make a single batter.