Braised Sirloin Tips with Garlic Mashed Potatoes
By
admin
on October 23, 2011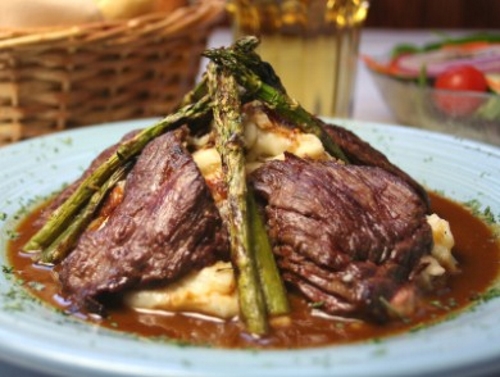 Braised Sirloin
INGREDIENTS
2 pounds of sirloin beef tips or sirloin steak cut into pieces.
1 cup of all purpose flour
1 tsp of salt
1 tsp of fresh ground black pepper
3 Tbls of extra virgin olive oil
2 Tbls of butter
1 yellow onion, chopped
3 carrots, cut into chunks
2 stalks of celery, cut into chunks
3 cloves if garlic, chopped
1 tsp of dried oregano
1 tsp of dried thyme
1 cup of beef broth
1/2 cup of red wine
1/2 cup of cranberry juice
1 package of whole white button mushrooms
1/4 cup of fresh Italian flat leaf parsleyPREPARATION
In a medium size bowl, mix together the flour, salt and pepper.
Dredge the beef in the flour and shake off the excess flour.
In a crock pot or large pot, brown the meat in the oil and butter on all sides.
Remove the meat from the pan and set aside.
Add the onions, carrots, celery and garlic and sauté for 2 to 3 minutes.
Return the meat to the pot.
Season with the oregano and thyme.
Add the broth, wine and cranberry juice and bring to a boil.
Reduce the heat, cover and simmer for around 1 to 1 and 1/2 hours until the meat is tender.
Remove the meat from the pan.
In a separate saucepan saute the mushrooms in a little oil for 3 minutes.
Using a strainer or a sieve, strain all the onion mixture into the saucepan with the mushrooms pushing everything through the strainer.
Heat the sauce and reduce by half.Garlic Mashed Potatoes

INGREDIENTS

8 white potatoes, peeled and cut into cubes
5 tsp of butter
3 garlic cloves, chopped
1 bunch of long green onions, chopped
1 cup of Mascarpone cheese
1/2 cup of milk
1/4 cup of grated Parmesan cheese
1 tsp of salt
1 tsp of fresh ground black pepperPREPARATION
Place the potatoes in a large saucepan and cover with cold water.
Bring to a boil, reduce the heat and cook until tender. Around 15 minutes.
Drain the potatoes and return them to the pot.
Sauté the garlic and onions in 2 tsp of butter until the onions are soft.
Toss the onion, garlic mixture, the remaining butter, Mascarpone, milk, Parmesan, salt and pepper.
Mix thoroughly until all the ingredients are well blended.
Plate the mashed potatoes and top with the beef and sauce.
Serve with roasted asparagus or your favorite vegetables.
Garnish with parsley.Serves 4 people.