Dangling Sea Shell Earrings
By
admin
on September 7, 2011
Sea shell earrings are beautiful organic jewelry you can wear for a shopping spree downtown or a day at the beach.
They are so light in weight that you don't even feel like you're wearing any earrings.
The subtle, but colorful, iridescent glow of the heart-shaped mother of pearl drops bring out the blue of the tiny gemstone beads which greatly compliment the dyed blue sea shells.
Dyed sea shells, mother of pearl heart drops and blue gemstone beads; all dangling from a silver chain make this pair of iridescence blue sea shell earrings the perfect fashion jewelry to wear for any occasion.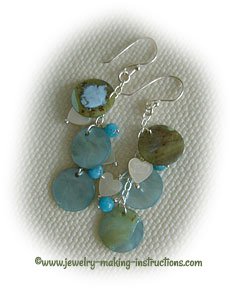 Jewelry Making Supplies:
1. 2 nos. earring hooks
2. 2 nos. 1 inch sterling silver chain
3. 8 nos. silver jump rings
4. 8 nos. silver head pins
5. 6 nos. dyed blue sea shell discs
6. 4 nos. small heart-shaped mother of pearl
7. 4 nos. small blue gemstone beads
8. round nosed pliers
9. flat nosed pliers
10. cutters
Jewelry Making Instructions:
1. Make beaded drops with the heart shaped mother of pearls and the blue gemstone beads.
2. Attach the silver jump rings to the sea shell discs.
3. Attach 3 nos sea shell discs, 2 nos mother of pearl heart-shade drops and the blue gemstone bead drops to each of the sterling silver chain.
4. Attach a jump ring and hook the whole dangling assemblage to each ear hook.
Note: Attach the three dyed blue sea shells discs onto the sterling silver chain first. Place one at the end of the chain and the other one at the middle of the chain. The third shell can be placed just 2 chains down so that the top chain can be used to attach the jump ring. Now place the mother of pearl drops and blue gemstone beads in between the sea shell discs.