Hearts Charm Bracelet
By
admin
on January 4, 2012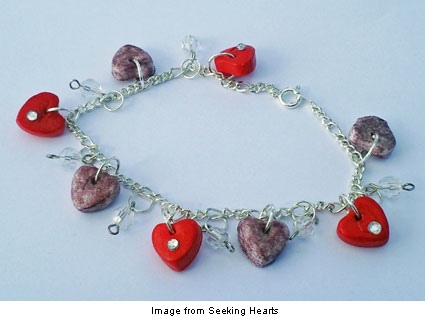 First of all, here's what you will need:
I already had some of the items below (for example, tin foil and the regular oven) but I  shopped at Wal Mart and Michaels (the latter has many outlets in Florida, where I live – you may find different suppliers close to where you are, of course) to collect the remainder:
1 chain bracelet large enough to fit the wrist of the wearer (about 7″ or 8″ usually)
Bakeable modeling clay (I used Sculpey Pluffey white)
Small rolling pin
Wax paper, glass board or tin foil to work the clay on
Small heart shaped cookie cutter
Picture nail to make hole in clay
Oven
Acrylic Paint (I used Folk Art Apple Red and Folk Art Extreme Glitter Rose)
Small paint brushes
Clear glaze
7 or 8 Small crystal beads to intersperse with the hearts
3mm round acrylic rhinestones – 2 for each heart
Jump rings to attach the charms and beads to the bracelet
Pair of needle nosed pliers
And here are instructions on how do it:
Work the clay and roll out to desired thickness
Cut out 8 – 10 heart shapes using cookie cutter
Make hole near the top of heart shape for the jump ring to fit through
Follow the instructions on the clay packet for baking the heart shapes
When cool, paint with your chosen colors. I found it easier to hold them flat with the picture nail while I painted the edges and one side of heart then allow it to dry thoroughly before turning it over and painting the other side.
Allow each coat of paint to dry before applying the next coat. (If you don't want to add the rhinestones you can add your own painted design at this stage.)
When the paint is completely dry finish the hearts off with a clear glaze
Glue a rhinestone jewel to one side of the heart charms. Allow to dry thoroughly before gluing one on the other side.
Attach the charms and beads to the chain starting with one colored heart shape, then a crystal bead, then the other colored heart. Carry this pattern through until you have completed your bracelet.
Your heart bracelet is now ready to wear or place in a suitable gift box to give as a present.
Although this bracelet is filled with heart charms (we're biased!!!) there are lots of other shapes you can use to make more bracelets. Just let your creativity take over – use your ideas to make charm bracelets or something even more unique – and have fun!