How to Make Pendants with Porcelain Clay
By
admin
on April 10, 2012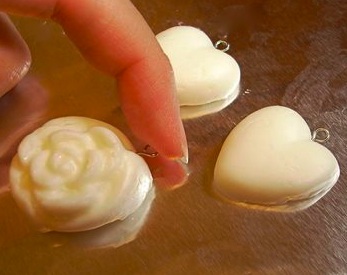 What you'll need:
3/4 cup white glue
1/2 cup water
1 teaspoon cold cream (such as Pond's)
1 teaspoon glycerin
1 cup cornstarch, plus additional for dusting your hands
Instructions:
Assemble all your ingredients before you begin. If you have trouble finding glycerin, try a drugstore's skin care aisle, or a cake-decorating store.
If possible, use an old saucepan and spoon for this process. The ingredients in cold porcelain aren't toxic, but they can be sticky, so don't use your best utensils!
Mix the wet ingredients over medium heat.
Begin by mixing the white glue, water, cold cream, and glycerin in a saucepan. Stir this mixture over medium heat until it's smooth. (You may need to mash that cold cream up a bit in order to get it to dissolve.)
Add the cornstarch and continue stirring.
When the wet ingredients are nice and smooth, add 1 cup of cornstarch. Be ready—the mixture will transform very quickly at this point. Continue stirring. The mixture will rapidly become quite stiff.
At first, the mixture will look like cottage cheese…
And within minutes, it will stiffen into something that looks like mashed potatoes.
When the mixture forms one clump and has pulled away from the sides of the pan, it's done.
Wrap the hot clay in a clean, wet dish towel.
Next, you'll be kneading the clay with your hands. But it's still pretty hot to the touch at this point. So, take a clean, old dish towel and wet it with cold water. Drape this towel over a plate and place the clay on it.
Take a moment to fill your saucepan with hot, soapy water. Soak any spoons or other utensils you've used.
Knead the clay through the wet towel until it's cool enough to handle.

Wrap the wet towel over the clay and knead through it. Pause every couple of strokes to pull the towel from the clay, then repeat the process.
Continue kneading, dusting cornstarch on your hands to prevent sticking.
In a few minutes, the clay will be cool enough to handle, so you can continue kneading with your hands. Keep a small bowl of cornstarch nearby, and keep lots of it dusted on your hands so the clay doesn't stick. You can also dust the surface of the plate with cornstarch as needed.
This clay recipe makes a ball about the size of a grapefruit.
After about five more minutes of kneading, your clay will look like this—smooth textured, elastic, and no longer sticky. If you want to add some color to your clay, you can knead in a little acrylic or oil paint at this point.
Place your clay in an airtight container while you proceed to wash all your utensils and surfaces. You don't want any of that glue mixture to dry on anything!
When you work with your cold porcelain, prepare a work surface that can double as a drying place. I like to put some foil over a cookie sheet and work on that because when I'm done, I can set the cookie sheet someplace safe while my work dries.
Candy molds are great for making cold porcelain pendants.
Or, here's a very simple project: candy-mold pendants! Just rub a little cold cream into a candy mold (and a little on your hands) so the clay won't stick. Then, press a tiny bit of clay into the mold at a time, taking care to press clay into every nook and cranny. Keep adding more clay a little at a time until you've filled the mold.
Check the mold to make sure no air bubbles are trapped inside.
If your mold is transparent, check it from the other side to make sure there aren't any air bubbles trapped in the clay. See that little bubble in the star above? I'll need to press that out, so it won't show up in my finished pendant.
Leave the clay in the mold overnight. It will shrink a bit as it dries, so you should be able to pop it out of the mold easily.
Press an eye pin into the top of the pendant.
You can then press an eye pin into the top of the clay, like this. Leave the clay to dry. Depending on the size and thickness of your pendant, this can take anywhere from overnight to several days.
Cold porcelain shrinks as it dries. See the difference between this fully dried pendant and the original mold?
When dry, the clay wil be very hard, slightly translucent, and quite a bit smaller, as you can see. Because the clay shrinks as it dries, the eye pin will be very securely fastened after drying.
Once dry, you can paint and embellish your pendant any way you like. I decoupaged some washi paper onto mine. You can also rubber-stamp onto this clay, or draw on it with markers.