Italian Beef Sandwich
By
admin
on November 13, 2011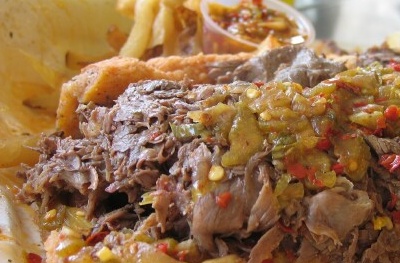 INGREDIENTS
5 pound rump roast
6 cloves of garlic chopped fine
1 tsp dried oregano
1 tsp of dried basil
1 tsp of dried thyme
1 onion slice
2 cups of beef broth
1/2 cup of red wine
1/2 cup of water
1 tsp fresh ground black pepper
1 tsp salt
3 red and green bell peppers
Italian Rolls

PREPARATION

Mix garlic, oregano, basil, thyme, salt and pepper.
Rub mixture into beef. Massage it thoroughly. Like you're on a date.
Place the beef in a large plastic bag and add 1 cup of broth, wine and onion.
Let marinate in the refrigerator for about 4 hours or overnight.
Heat oven to 350 degrees
Place roast in a roasting pan and pour the marinade over the roast.
Add the remaining broth and water.
Roast with no lid for about 2 to 2 1/2 hours turning once within that time.
Remove roast and let stand till cool. Reserve juice.
Slice beef thin on a meat slicer. If you don't have a slicer, get one. You'll use it for a lot more things than roast beef.
Place beef in juice.
Cut peppers into slices and saute in oil until done.Slice your rolls and pile on that juicy beef. Add sweet peppers or giardinera and eat. Don't forget those napkins. In the summer, try this recipe on a grill.