Italian Beef Stew
By
admin
on October 23, 2011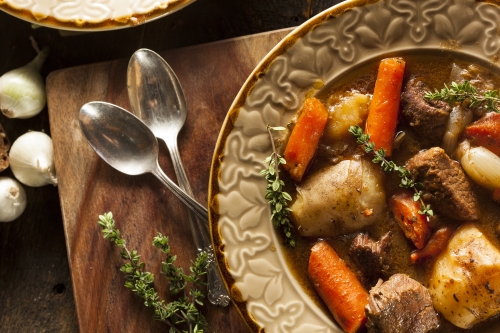 INGREDIENTS
2 pounds of stew meat already cut up into chunks
1 cup of flour
2 15oz cans of diced tomatoes
2 15oz cans of tomato sauce
1 cup of water or enough to cover vegetables
1/2 cup of dry red wine or a little more depending on taste
2 green bell pepper cut in large chunks
2 onions cut in half and sliced
5 carrots peeled and cut into circles
1 large zucchini sliced into circles
1/2 pound of fresh green beans
4 stalks of celery sliced in small pieces
5 small baking potatoes cut into pieces
4 cloves of garlic crushed
2 Tbls of dried oregano
1/4 cup of extra virgin olive oil
1 Tbls fresh ground black pepper
1 tsp saltPREPARATION
Trim the fat off the meat
Dredge meat in flour and shake off any excess.
Refrigerate until ready to use.
Slice an dice all your vegetables.
In a large brown the meat in oil stirring so it doesn't stick to much.
Add garlic,oregano and salt and pepper and stir some more.
Add wine and let simmer for about ten minutes and keep on stirring.
Add all the vegetable and stir. I think you get the idea about stirring by now.
Add tomatoes, tomato sauce and water so the vegetables are covered and stir.
Simmer about 1 hour and a half coveredServe in a nice bowl and don't forget the bread.