Italian Minestrone Soup
By
admin
on October 23, 2011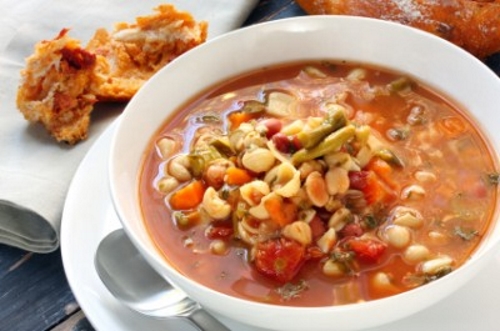 INGREDIENTS
6 cups of homemade chicken or beef broth (you could use canned broth for a quick fix)
3 carrots cubed
1 onion diced
8oz string beans
2 small zucchini halved and sliced thin
2 stalks of celery sliced
12oz. of cabbage chopped into pieces
3 or 4 cloves chopped garlic
2 cans of 15oz peeled and crushed tomatoes
fresh basil to taste
1 15oz can of cannellini beans
2 large potatoes chopped
2 Tbls chopped parsley
fresh ground black pepper to taste
salt to taste
1 pound ditalini pasta
parmesan cheese
2 Tbls olive oil

PREPARATION

In a large pot saute onions, garlic, carrots, string beans celery and potatoes in olive oil for ten minutes.
Add cabbage and zucchini and saute for about five more minutes.
Add tomatoes, basil and parsley and beans and stir.
Add chicken or beef stock. I prefer the beef.
Add salt and pepper to taste.
Bring to a boil then simmer until vegetables are soft.
In a separate pot cook the ditalini for about 10 minutes.
Add some pasta to a soup bowl and ladle in some soup.
Sprinkle with parmesan cheese and your ready to serve.