Katrina kaif's Makeup
By
admin
on October 9, 2011
The next celebrity's make-up to be scrutinized by me is Katrina Kaif. I like the look so much I won't even crib about the liner outside the natural lip line. I mean I won't complain lot about it, even though the entire look is gorgeous.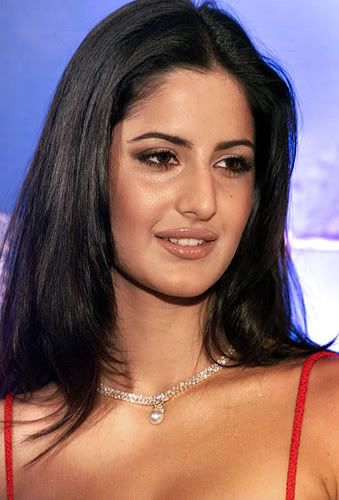 Prep:
This look is very glowly and enhances the beauty of the skin. To get rid of any flaky skin and make sure that the make-up will look its best, try using a gentle scrub before moisturizing or applying make-up.
As always, I recommend using a moisturizer and an eye cream according to the needs of your skin.
Brows:
I sound very repetitive, but make sure to pluck an stray hairs so that your eyebrows look neat. Using a dark brown brow-pencil, enhance your eyebrows with short strokes of the brow pencil.
Face:
Apply a dewy foundation and if needed use a concealer sparingly only where necessary. Blend the foundation and concealer so that there is no line of demarcation.
Eyes:
This is going to sound like a practiced mantra, but prep your eyelids with a primer. Your eyeshadow don't disappear or crease as quickly.
Eyelid:
Apply a matte taupe eyeshadow from lash line to crease. My eyelids are very dark and I find that using a primer really stops nudes and taupes from disappearing or blending into the darkness of my eyelids.
Crease:
Apply a matte black eyeshadow on the outer "V" of the eye. To outer "V" is the "V" shape you get when you deposit eyeshadow from the outer corner to the center of the crease and the outer corner to the center of the lash line. What you essentially get in this case is a "V" of unblended black shadow.
Highlight:
Highlight the brow bone with a translucent silver shadow or highlighter. Now blend the lid, crease, and highlight colour so that there are no visible lines. Add a dot of the same highlight on the inner corner of the eye.
Liner:
Using a soft black pencil, dot along the upper and lower lash line to create a thing line. Be sure to dot in between the lashes to enhance the lashes and the eye make-up in general.
Mascara:
Let your inner mascara fiend loose and apply two coats of volumizing mascara on top and bottom lashes. Using a lash comb, separate any clumps you may have. For added drama, you can add a few clumps of individual lashes at the outer edges.
Blush:
This look requires bronzer more than a blush, so apply a shimmery bronzer along the apples of the cheeks and blend towards the temples. With a fluffy bronzer brush, lightly apply the bronzer to the bridge of the nose, chin, and forehead.
Lips:
Katrina's lips have been lined just outside her natural lip line. I promised I wouldn't complain about it (I'm really trying here), but I recommend just lining along your natural lip line with a pinky nude lip liner. Then, apply a milky nude lip gloss all over the lips.