Make Beautiful Turquoise Jean Jewelry
By
admin
on August 9, 2011
This lovely turquoise jean jewelry will certainly looks delightful hooked to the loop of your jeans.
It dangles as you walk and is likely to attract lots of attention. The turquoise flowers and gemstones go so well together with the freshwater pearls and sterling silver findings. I found the big clasp while shopping for beads and the first thought that came to my mind was – "Hey! That's what I need to make my turquoise jean jewelry." So I bought a few and will be making more of these jean jewelry with my other gemstones and beads.
I like this clasp very much. It clips easily onto the loop of my jeans and once clipped onto the jeans will stay secure. It's also not heavy as it's made of a non-tarnish lightweight metal.
Below is the instructions for making this turquoise jean jewelry.

Jewelry Making Supplies:
1. 1 no. big silver color clasp
2. 1 no. big silver jump ring
3. 1 no. small silver jump ring
4. 1 no. long silver eye pin
5. 20 nos. shorter silver eye pins
6. 1 no. 2 inch silver chain
7. 2 nos. 2 inch tiny silver chains
8. 1 no. silver bead cap
9. 1 no. big turquoise stone
10. 2 nos. turquoise flowers
11. 6 nos. medium turquoise stones
12. 4 nos. tiny turquoise stones
13. 3 nos. heart shaped shells
14. 5 nos. fleshwater pearls
15. round nosed pliers
16. flat nosed pliers
17. cutter
Jewelry Making Instructions:
1. Prepare the big turquoise drop with the big eye pin, silver bead cap and big turquoise stone. Make a beaded drop.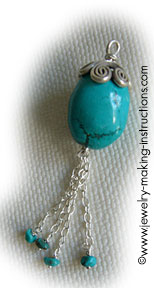 2. Prepare all the other gemstones: the turquoise stones, turquoise flowers, fleshwater pearls and shell hearts. Make drops with the 20 shorter eye pins
(Refer to How to Make a Beaded Drop)
3. Attach each tiny turquoise drop to the end of the 2 tiny silver chains.
4. Take the centres of the 2 tiny chains and attach to the loop of the big drop with a small silver jump ring.
5. Attach the big drop to the end of the 2 inch silver chain.
6. Begin attaching all the other beaded drops onto the 2 inch silver chain.
7. Finally, attach the chain to the big silver color clasp with the big silver jump ring.
And here's the turquoise jewelry clipped onto the loop of my blue jeans.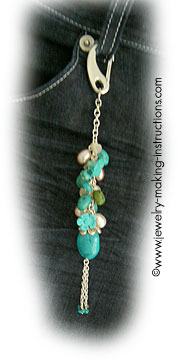 Other uses for this turquoise jean jewelry:
You can also use this to beautify your handbags. Just clip it to the zip pull if the hole is big enough. If not, just clip it onto the handle of your bags.
Use a smaller clasp and as your mobile phone's accessory.
Use as a key chain.