Mexican Pambazos
By
admin
on January 3, 2012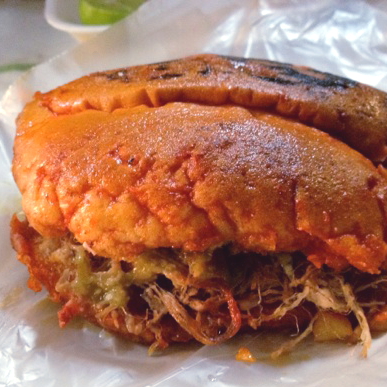 Cook Time: 1 hour
Pambazos ingredients (serves 6):
6 big bolillos or teleras (any Mexican/Latin food market should have them in the bakery area. If not, you can substitute with some similar dry white bread, but I really recommend you use the real ingredients for this if you can find them.)
250g longaniza
4 big potatoes
2 cups shredded lettuce
salt to taste
vegetable oil
sour cream
crumbed fresh cheese
green salsa (salsa verde)
For the guajillo sauce:
4 chiles guajillos pre-boiled, deveined and deseeded
1 small tomato
1 gralic clove
salt to taste
1 cup of chicken stock
Directions for making pambazos:
1. Make the sauce: add all the sauce ingredients to the blender, blend until they make a paste. Strain the sauce and set in a big bowl where a whole piece of bolillo can fit.
2. For the potatoes, start by frying the longaniza until it's a little crispy. Then boil the potatoes with the skin until they are fully cooked, and then remove them from the water and dry them up. Then mash them with a fork and mix with the longaniza in the pan and keep cooking them until they are fully integrated and mixed as one.
3. Make the pambazos: One by one, cut the bolillos into two halves, and dip each half in the chili sauce you made.
In the meantime, heat a pan with 1 tbsp of vegetable oil and once hot add one whole bolillo after you've dipped it in the sauce (be careful because the oil may jump). Fry each side for about two minutes, then remove and drain excess oil using a paper towel.
Set up the bottom part of the bolillo on a platae and stuff it with the potatoes and longaniza mixture. Garnish with lettuce, sour creme, fresh cheese, and salsa verde, then crown with the top part of the bolillo.