Multi-colored Glass Beads Bracelet
By
admin
on September 7, 2011
See the pearlescent teal blue, dark purple and black flowers nesting against the translucent purple leaves, the sparkling, twinkling hearts when the lights fall on them, the tiny micro shining beads, the pearl beads, the myriad hues of metallic purple and muad and the little you can see of the yellow copper eye pins and head pins used.
Indeed, colors and designs come together to form a thing of beauty.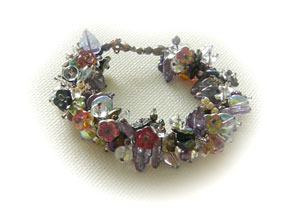 Jewelry Making Supplies Needed:
1. glass beads, seed beads; various designs and complimentary colors (The biggest I used are the purple leaves. It's 10mm long).
2. 2 nos. 4mm beads
3. 18 inch length beading wire
4. lobster clasp
5. 2 crimps
6. head pins
7. flat-nosed pliers
8. round-nosed pliers
9. wire cutters
10. crimper
Jewelry Making Instructions for Making This Glass Beads Bracelet:

1. Test the lobster clasp to ensure that it is working properly.
2. Fold the beading wire into half.
3. Insert the folded side into the clasp's loop making a loose loop.
4. Pull the other side of the double wire and insert into the loop.
5. Pull snugly to make a knot.
6. Put a crimp into the wire about 0.5mm from the knot and crimp tight
7. Add one 4mm bead.
8. Prepare the various designs glass beads and seed beads according to the instructions on how to make beaded drops using the head pins.
(Note : For me, I prepare them and put them on the wire at the same time. If it doesn't look right, I try another design or color.)
9. Make sure that the bracelet is about 8 inch long including the clasp.
10.Finally, add a crimp.
11. Insert the end of the wire into the loop on the other piece of the clasp and then back into the crimp again.
12. Pull lightly and leaving a gap of about 0.5mm between the crimp and the clasp end, crimp tight.
13. Insert the remaining wire into a few beads and cut off excess.