Organising Jewelry Making Parties for Children
By
admin
on September 21, 2011
It is fun organising jewelry making parties for children. Just recently, I organised one for my niece's 10th birthday. The girls ranging from age 5 to 10 just love it.
Child jewelry should be light and colorful. For my niece's birthday party, I used colorful plastic beads and jewelry making elastic strings. It is important that the beads shouldn't be too small and the beads holes big enough for the children to string easily.
Important: Children below 3 years old should not be included when organising jewelry making parties for children since small plastic materials for jewelry making are used.
If it's a big jewelry making party for lots of kids, then all jewelry making materials for each child should be packed into ziplock bags before the party.
The above bracelets were created by the girls during my niece's birthday party. They were simple to make but beautiful to look at. (To view a bigger image of the colorful bracelets, just click on the image and it will open in a new window).
Jewelry Making Supplies:
1. 8mm plastic beads (assorted colors)
2. 14mm plastic beads (assorted colors)
3. small plastic cups
4. big plastic bowls
5. jewelry making elastic strings
6. cellophane or masking tape
7. scissors
Instructions:
1. Pour all the plastic beads in big plastic bowls.
2. Distribute small plastic cups to the girls.
3. Explain to them that they will be making a colorful bracelet for themselves. They are to choose their own beads and arrange the colors according to their own desires.
4. Cut the elastic strings to about 8 to 9 inches long.
5. Cut a small piece of cellophane or masking tape and stick it at the end of each elastic string to stop the beads from falling off. (Refer to the picture below)
6. Give each girl a piece of the elastic string and tell them to pick about 25 8mm plastic beads and 2 14mm beads from the big bowls.
7. When they have finished stringing the beads, take the stringed beads from them one at a time.
8. Do not cut off the tape.
9. Take the two ends of the string and tie two or three knots.
10. Cut off excess strings.
11. Put on the bracelet for each girl.
Cup of Colorful Plastic Beads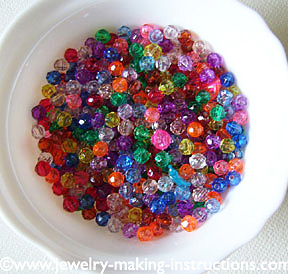 Bowl of Colorful Plastic Beads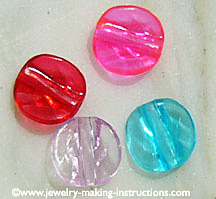 14mm plastic beads
Elastic String with Tape at the end
Tie 2 or 3 knots and cut off the end of strings