Peppers, Onions and Sausage Calzone
By
admin
on November 13, 2011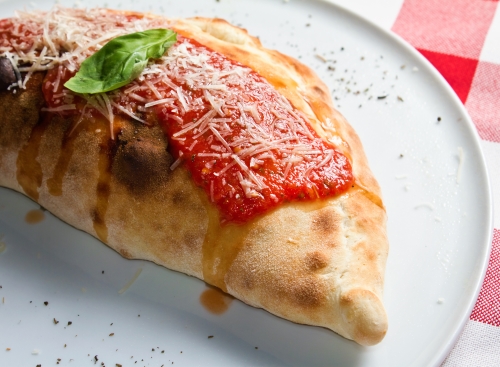 INGREDIENTS
1 pound of bulk Hot or Mild Italian Sausage, cooked and drained

1 medium yellow onion, sliced

1 green bell pepper, sliced

1 red bell pepper, sliced

2 cloves garlic, chopped

2 Tbls of extra virgin olive oil

1 pound of ricotta

8oz. Fresh mozzarella, diced

1/4 cup of fresh grated Parmesan cheese

8 fresh basil leaves, shredded

1 tsp of salt

1 tsp of fresh ground black pepper

1 (32oz) package of frozen bread dough

1 jar of your favorite pizza sauce

PREPARATION

In a large skillet, sauté the sausage until cooked.

Break up into pieces with a wooden spoon.

Drain the sausage in a paper towel. Let cool.

Using a clean pan, sauté the onions, peppers and garlic in the olive oil until tender.

Drain the mixture in a paper towel. Let cool.

In a large bowl, mix together the sausage, pepper mixture, ricotta, mozzarella, Parmesan, basil, salt and pepper.

Pre-heat the oven to 400 degrees.

Divide the dough into 4 equal pieces.

Roll each piece of dough out into a circle.

Add the sauce all over the dough.

Place the ricotta mixture on half of the dough.

Fold the other side of the dough over the filling and pinch the edges to seal up the calzone.

Make 3 slashes on top of the calzone.

Place the calzones a grease baking sheet and brush with olive oil.

Bake for 25 to 20 minutes until they a golden brown.

Serve with extra sauce.

Serves 4 people.