Romantic Eyes for Summer Makeup
By
admin
on August 28, 2011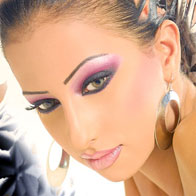 Sexy eyes are one of the best features of women who know a little flirting and being a little nasty. Sexy and romantic eyes can turn men's head back to you. So this summer try out the latest sexy and romantic eye theme of summer eye makeup 2011.
A woman's alluring eyes can do what her voice and other actions can't. In this summer have almond shaped deeply lined summer eye makeup and get your man dying for you. Here are some wonderful tips to follow before applying eye makeup in summer.  Apply combination of bright and light colors both in summer eye makeup 2011 like grey, chocolate, black, charcoal and light brown colors are recommended.
Don't forget to clean your eyes and remove excessive oil with toner or rose water before applying summer eye makeup for a clean and oil-free look.
Eyeliner is important tool in giving you the sexy almond shaped eyes which are main theme of summer eye makeup 2011. For achieving this look, start lining from top last and extend it to outer edge. Now use some pencil or black eye shadow to smoothen the edges.
Almond shaped eyes are the destination of summer eye makeup 2011 in Pakistan. So while applying the lines using any medium make sure that your eyes are approaching to the almond shape. Almond shaped eyes in summer eye makeup 2011 indicate seduction.
While Applying shades, keep this in mind that summer eye makeup 2011 have to look deeper in the eye lid and it should be decreasing its intensity while you're moving to crease. You can use dark shades of black, brown and charcoal on the eye lid and the grey and light green can be put near the crease.
Once you have applied the color shades, it's time to apply mascara deeply to above and the lower of the eyes. Curl you lashes and enjoy the sexiest and romantic look.