Spicy Karhahi Chicken
By
admin
on November 21, 2011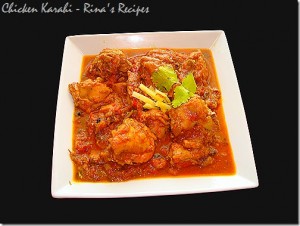 Ingredients:
1 kg Chicken
2 tsp Ginger+Garlic Paste
1 tsp Thinly Sliced Ginger
Salt To Taste
Red Chilli Powder To Taste
Cup Ghee
1 tsp Black Pepper
3 Green Chillies
Green Corriander Leaves As Required
Method:
Heat oil and add ginger garlic paste and cook a little.
Then add the chicken and cook adding ginger slices, salt, red chilli powder, pepper and green chillies and cook until little brown.
Serve hot with corrinder leaves on top.