The red room decoration
By
admin
on September 4, 2011
Red has become one of the basic colors to decorate our home. It is ideal to separate rooms or out somewhere. Of course, you can not abuse too because it tends to dwarf the room. On the contrary, if you use it in specific areas or corners, fill your room dynamics, breaking the monotony of the decoration. It is ideal for hallways and lobbies.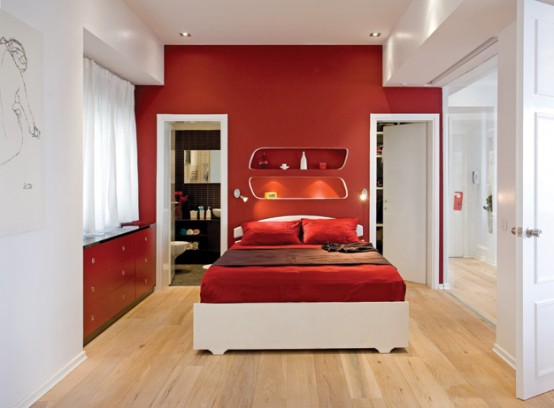 Do not overuse it in rooms large because, being a primary color very exciting could saturate the environment causing stress. Ideally, choose a wall that is broken windows, a prominent box or a door and it will provide much elegance. And if you combine it with some of its myriad hues, the result is impressive.
Another way to include red in the decor is through accessories. For example, cushions, curtains, rugs or upholstered furniture. It is ideal to choose this color if the room is decorated in neutral tones, brings joy and vitality.
In kitchens and bathrooms, it is being used more and more. The idea of putting tile in your bathroom in the form of checkered red and white combination will get the result that is very interesting. In the kitchen, or on furniture or in the appliances, to give a modern yet elegant, red is ideal to bring with materials like metal and wood.
A combination that you may love is what gives you the use of red and black, giving an air of Asia to stay. It helps to create minimal modern spaces. It is very difficult to use this mix, because if both colors bring sophistication and elegance to the environment, may also reflect seriously.