Unique gift wrapping for Birthday,Christmas or Wedding gifts
In need of some creative gift wrapping ideas? Here are just a few to spark your creative mind. Whether you are wrapping a birthday gift, Christmas gift or wedding gift, ] you can use the ideas below and modify them for your own personal gift wrapping.


For example, for baby gift wrapping, you just have to use baby images from cliparts or rubber stamp designs. Baby shakers, diapers, safety pin, or other baby toys will be appropriate for the gift wrap.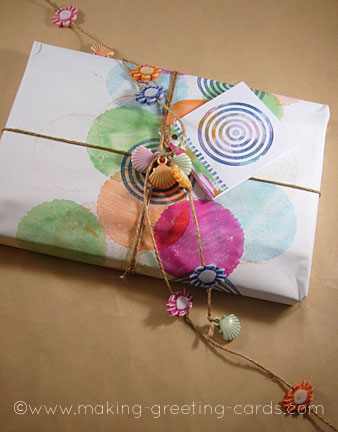 For this birthday gift wrapping, just use a sheet of plain white paper or newsprint paper.
The images on the paper are rubber stamping done with a All Night Media wood mounted stamp. Because it's a birthday gift for a 8 year old boy, I used bright colors; blue, magenta, orange, and green. I over stamped in navy blue with a Hero Arts wood mounted stamp: Small Concentric Circles.




Note:

Before stamping, you need to roughly wrap the gift to get an idea where the design will go. Mark lightly with a pencil. Unwrap and stamp.


After wrapping, I threaded some bright color beads with the strings, tying knots at interval so that the beads will not move.
Finally, attach the gift card to it.




Above is a picture of the gift card attach to the parcel.