Watermelon Tourmaline Bracelet
I love this watermelon tourmaline bracelet. Easy to make, stunning to look at. It sure looks great with any outfit.
You can wear it with an evening dress or just a casual pant suit and you'll be amazed you'll be attracting lots of attention.
And it's so simple to make. The difficult part is choosing the gemstones. You need to choose the right shade and line them up first to get a feel of the design. Add a silver nugget in-between the stones and then more nuggets at the end to bring out the shine.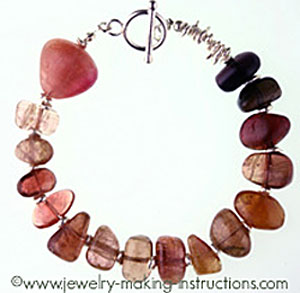 Jewelry Making Supplies:


1. 15 nos. different shade tourmaline stones
2. 1 no. rose color watermelon tourmaline
3. 1 set 925 silver toggle
5. 26 – 28 nos. silver nuggets
Jewelry Making Instructions:


1. Fold beadwire into half.
2. Insert the loop into the toggle and pull tight. (You will like to read attaching clasps to understand better this part of the instructions.)
3. Insert a silver crimp onto the doubled beadwire right up to the toggle and crimped with pliers.
4. Insert 2 silver nuggets, then a tourmaline stone, and then another silver nugget and so on.
5. Insert the rest of the silver nuggets after the last tourmaline.
6. Measure the bracelet. It should be 7 inch long including the toggle.
7. Add more silver nuggets if it's too short.
8. Put in a crimp and insert the wire through the hole on the other part of the toggle.
9. Then back into the crimp and pull tight and crimp.
10. Finally, insert the rest of the wire into the silver nuggets.